if you rarely send text messages, remove that feature from your monthly plan. Those text plans are notoriously expensive compared to the miniscule data they send. There are apps that will allow you to text. Also, if you're using an iPhone, you can use iMessage to text other Apple users at no charge.
If you want to give your preteen a cell phone, make sure you get them a plan that fits your budget and their needs. If they like to text a lot, you should consider plans that have unlimited texting. If you don't, you may end up with a huge bill.
Do you barely use your cell phone for talking? Think about dropping the minutes from your cell phone plan and going VoIP (like Skype) only. Using your data plan, you can use Skype or another VoIP instead of paying for actual cell phone minutes. This is very smart if you find you only talk a handful of times each month.
If you tend to have cell phone envy, you may want to consider a cell phone plan that allows you to upgrade annually. Most cell phone carriers have you on a two year agreement. Upgrading during that time will cost you an arm and a leg. But there are plans out now that let you break that cycle and upgrade as often as you want. Ask your carrier about it.
Skip unneeded extras when purchasing a cell phone. An extended warranty is unlikely to be useful, and you will end up paying lots of money for nothing. Modern phones have stronger glass and better cases, so all of that protection is not really needed.
To save money, try and use WiFi as much as possible. This may mean connecting at both work and at home. When you use a WiFi connection, you are not using your data plan. That means there is less of an opportunity for you to go over your allowance and get charged extra money.
If you are receiving other services through your cell phone carrier, look to see if you can get a discount on your cell phone plan. Carriers like AT&T and Verizon also offer home phone and even fiber television. They likely offer bundles when you subscribe to many services, so see if you qualify.
Do you really need a smartphone? Internet usage is costly when you first set up your plan, but if you end up going over your bandwidth limits, the cost will quickly skyrocket even higher. If you can get along without the internet on your phone, use that money for something more important instead.
Always ask about available discounts to see if you qualify. In many cases, your company may work with the carrier to offer you and your colleagues some savings on your monthly cell phone plan. However, you probably will not be told about these discounts unless you ask, so it is important to do so.
Walk into a cell phone store these days, and the enormity of the task may seem unconquerable. However, if you stick with the advice and guidance offered above, it should be simple indeed to get a great phone. Use these tips liberally and walk out of the shop with a wonderful phone you love to use.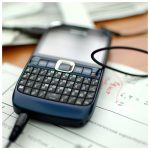 Photo by f.stroganov